Congratulations to Brian Self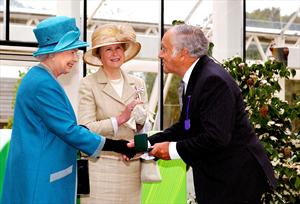 Many congratulations to Brian Self, who has been awarded the Victoria Medal of Honour (VMH), the Royal Horticultural Society's highest accolade: a well deserved recognition of Brian's enormous contribution to the Society and more especially to the whole world of fruit.
Brian is one of our most outstanding fruit specialists, who spent all his professional life in horticulture and has also given extremely generously of his time and expertise to amateurs. For some 35 years Brian was a member of the East Malling Research Station staff, where as head of the Liaison Department he was the fruit ambassador, facilitating the exchange of information, promoting achievements and spreading goodwill throughout the national and international fruit community. There seems to be no country that Brian's network of contacts and influence does not reach, and who continue to hold him in the highest regard.
Brian brought his encyclopaedic knowledge, enthusiasm and diplomatic skills to the Society and many other organisations. At the RHS he was a member of Council, the Society's governing body, Chairman of Fruit and Vegetable Committee and of the Fruit Group, and served on a number of other committees; he was a founder member of the Institute of Horticulture, President of the Kent Federation of Horticultural Societies and closely involved with Brogdale and the National Fruit Collections, to name just a few of his activities.
His wisdom and genial personality have eased many paths and helped students of all ages in their careers in horticulture and in the art of exhibiting for the show bench. Many people, myself included, owe Brian a huge debt of gratitude. He has pointed me in the right direction and given such good advice on so many occasions.
Brian received his award from the Queen on 26 June at RHS Garden Wisley.
Well done Brian!
Joan Morgan

Published: 26 Jun 07